Answered By: Luis Ezra Cruz

Last Updated:

Apr 04, 2022

Views:

166
Follow the steps below to place a seat reservation:
1.1 Via LibCal Page
Go to https://libcal.dlsu.edu.ph/r and click RESERVE. You can also use provided computer terminals and QR code at the library entrance to access the link.
1. 2 Via Library Mobile App
Open the Library Mobile App and select the Book A Seat tile. If you have not yet downloaded the app, follow the instructions here.
2. Under the LOCATION drop-down, to choose the desired library. Then, select which floor or building you intend to stay under the CATEGORY dropdown. Once done selecting, Click SHOW AVAILABILITY.
3. The current date is the default view when you first show availability. You can change the date by using the GO TO DATE option or using the arrows under the current date to see dates before or after those displayed.
4. Select preferred date and Choose a seat. NOTE: Seat number per floor is for occupancy monitoring purposes only. Once you are on your selected floor, you can choose any available seat. Slots with GREEN are available while those RED are already filled.
5. Click your preferred start time on the grid.
6. Scroll to the bottom of the table and you will see both the seat/space and start time listed. Use the drop-down box to select an end time.
7. Click "Submit Times".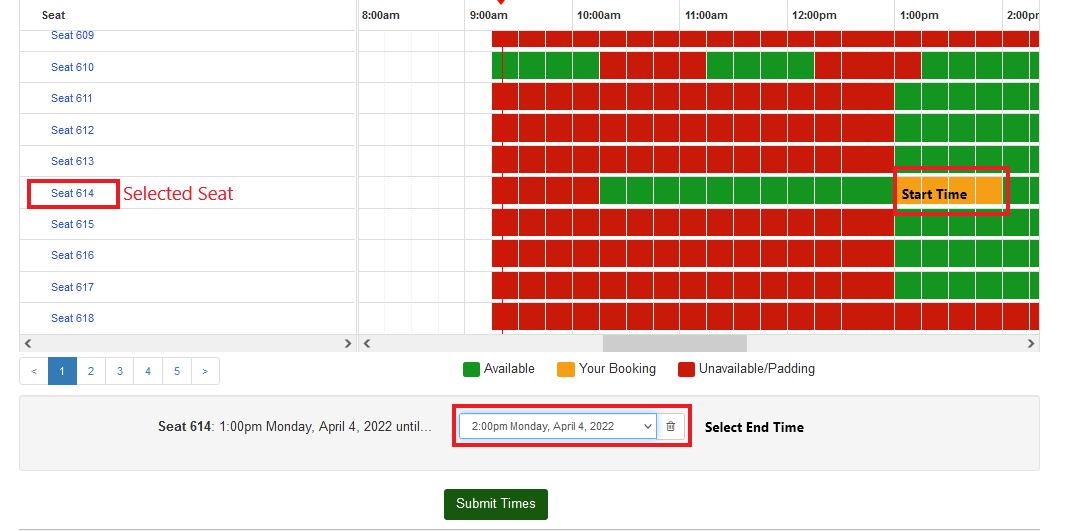 7. Log in using your MLS username and password.
8. Fill out the form to complete your booking. You will receive an email confirmation with a unique check in/check out code.
9. Proceed to the library on your booking schedule.
Note: Seat number are for monitoring purposes only. You may proceed to your selected floor and take any vacant seat.